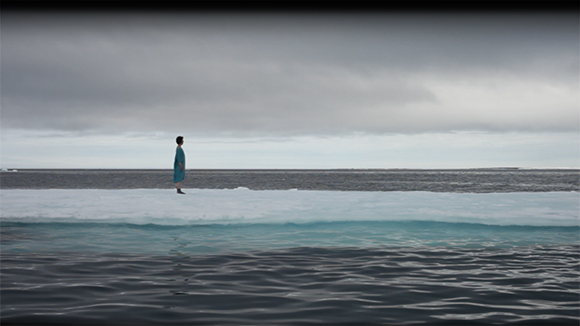 Swallowed Whole
a  film by Heidi Kumao
4:06 minutes / Digital file, DCP / 16×9 / stereo / USA/Norway
In English, no spoken words
Contact: Heidi Kumao
info (at) heidikumao (dot) net
Synopsis:
Swallowed Whole is a somber, animated, experimental film about surviving extreme isolation and physical limitations as a result of traumatic injury.
After an acute sledding accident, a woman is forced to lie supine for an extended period of time during which she descends into a desolate, disorienting netherworld. Feeling stifled, she imagines she is trapped under a frozen lake; life continues on above her while she looks up from below.
Swallowed Whole weaves together photos, animations, videos and sound recordings and takes the viewer on an abbreviated jarring journey through physical and psychological landscapes of hospitalization and recovery. Some of the imagery and sounds were collected during The Arctic Circle 2013 Summer Solstice Expedition, an international research expedition for artists, writers, and scientists.
Edited to emphasize the physical impact of dropping, crashing, and slamming, the video repeats vertical frame-rolls from analog TV to metaphorically replay the impact that literally broke her back. The bone-crushing sounds and jarring movement echo throughout the film mirroring the repetition of trauma, and the trauma of repetition, commonly associated with post-traumatic stress disorder. The recurring instability of the image reflects the fragility of her injured body while providing a palpable experience for the viewer. The piece is inspired in part by Joan Jonas' Vertical Roll, (1972) which uses a common analog television set malfunction to create a shifting stage of activity. Swallowed Whole uses fragmentation to both tell and disrupt the story and serves as a window of empathy into PTSD (post traumatic stress disorder) repetition compulsion.
Festivals
53rd Ann Arbor Film Festival, Ann Arbor, MI
Black Maria Film Festival, 34th Annual Festival Tour –Feb. – Nov. 2015
Female Eye Film Festival, Toronto
Filmfest Dresden: International Short Film Festival, Germany
Atlanta Film Festival, Georgia
Montreal International Animation Festival, Quebec
International Short Film Festival 20min|max, Ingolstadt, Germany
13th Festival Int'l Signes de Nuit, Lisboa, Portugal & Sarrbrücken, Germany
Athens Animfest, Athens, Greece
FONLAD Festival – Digital Art Festival Coimbra, Portugal (via CologneOFF -Cologne Int'l       Videoart Festival)
Tricky Women International Animation Filmfestival, Vienna, Austria
48th World-Fest Houston International Film and Video Festival
Mostra de Curtmetratges Dr.Mabuse XIV, Barcelona, Spain
TallyShorts Film Festival, Tallahassee, Florida
Humboldt Film Festival, Humboldt, California
Illinois International Film Festival, Westmont, IL
Awards
 Black Maria Film Festival, 34th Annual Festival Tour –Feb. – Nov. 2015,
Jury's Choice Award – 1st Prize
World-Fest Houston, Remi Award, 2015
Seoul International Extreme-Short Image & Film Festival, Seoul, 2014,
Best Experimental/Documentary Award
Videoholica International Video Art Festival, Varna, Bulgaria, 2014,
Bronze Videoholica Award
About the filmmaker
Heidi Kumao is a media artist who creates video installations, experimental, animated short films, and kinetic sculpture.  She has exhibited her work in solo and group exhibitions in the USA and internationally including solo shows at the Museu da Imagem e do Som (São Paulo), Museu de Arte Moderne (Buenos Aires) and Fundació Joan Miró in Barcelona. She has received grants/fellowships from the Guggenheim Foundation, Creative Capital, and the New York Foundation for the Arts and her work has been reviewed in Artforum, Art Papers, Sculpture Magazine, and AfterImage. Her sculptural and photographic work is in the permanent collections of the Museum of Fine Arts, Houston, Arizona State University Art Museum, and Light Work.  She teaches at the Stamps School of Art & Design at the University of Michigan, Ann Arbor.
More information: www.heidikumao.net
Kumao's previous films for video installations include: Egress (2014), Transplant (2010), Tether (2010), Trace (2010), Correspondence (2008). Other single channel works include: Hole in the Floor (2008), Zapped! (2005), and The Load (2000).
High Resolution Images
Any reproduction, publication, or other use of these photographs should cite the following credit: Photo Courtesy of Heidi Kumao