[Non-fiction – Arts/Photography]
Gold winners were announced in person in Minneapolis on June 17 at Open Book.
Founded in 1984 in Minneapolis, the Midwest Independent Publishers Association exists today as a vibrant professional association that serves the publishing communities in the Midwest.  The awards recognize the best books published in the Midwest in 2022.
MiPA aims to create an inclusive publishing community that shares educational resources, fosters networking connections, increases the quality of independent publishing coming out of the Midwest, and helps its member publishers grow. MiPA is also a regional affiliate of the Independent Book Publishers Association (IBPA).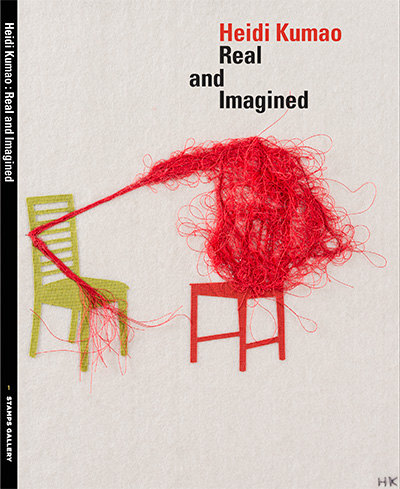 "Heidi Kumao: Real and Imagined" (2022)
110 pages, color, paperback
ISBN: 978-1-60785-760-0 (paper)
Price: $29.99 (list)
Available on Maize Books (University of Michigan)

About the Book:
"Heidi Kumao: Real and Imagined" documents and contextualizes narrative fabric works and animations from Kumao's 2020 solo exhibition at the University of Michigan's Stamps Gallery. Using fabric cutouts and stitching of everyday objects, Kumao creates a tactile visual vocabulary that distills unspoken—often sinister— aspects of daily human exchanges into accessible narrative images.  Fueled by the ongoing battles over reproductive rights, the #MeToo movement, and personal experience with traumatic loss and separation, Kumao creates poetic and, at times, playful open-ended visual haikus that weave in her experiences as an Asian American woman, artist, and educator. Charged interactions from intimate relationships, medical procedures, the workplace, and the political sphere are captured midstream, suspended in time within felt film stills.  Real and Imagined presents the reader with an opportunity to experience this striking oeuvre of over thirty fabric works and video animations.
This exhibition catalog marks the first significant publication on Kumao's work and includes a selection of works from across her career.  It includes critical writings by: Srimoyee Mitra, curator and Director of the Stamps Gallery and NYC-based art critic, Wendy Vogel, an interview between the artist and writer Lynn Love and poems by the Ruth Lilly Poetry Prize Award winner, Marilyn Chin.