The Wed-o-matic.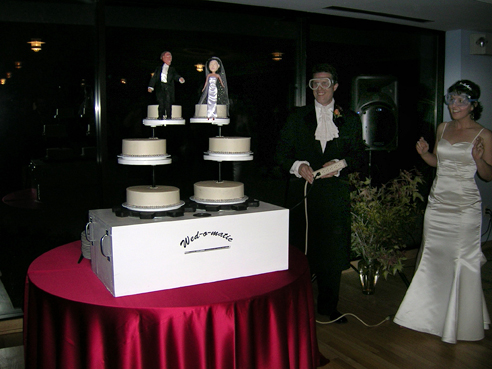 Part 1 (12 mb)
Part 2 (6 mb)
Michael Flynn's FUN EXHIBITS site
Wedding Cake, 6,000 Volts
Kinetic sculpture

Technology/Intervention
We decided to take the idea of a wedding cake and wedding cake "toppers" to a new, artsy, absurd level and to use the cake as an opportunity to make a collaborative art work. To symbolize our common interest in all things mechanical and electrical, the cake was embedded with a sparking Jacob's Ladder made from a re-used 6,000 Volt neon sign transformer. The cakes rotated on geared, motorized platforms and every time the two dolls' hands would touch, a firey spark would appear between them.
Video clip of the 6000 Volt wedding cake machine: The WED-O-MATIC (13mb) →