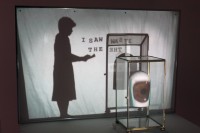 "Head, Shoulders,Genes and Toes," group exhibition at Florida State University Museum of Fine Arts, curated by Judith Rushin. An exhibition exploring the intersection of art and human biology. Part of Seven Days of Opening Nights.
Feb.8-Mar.31, 2012. Opening reception February 8, 6:30-9pm.
I will be exhibiting my video sculpture, "Tether," which explores the medical condition known as "Locked-in Syndrome" as described by Jean-Dominique Bauby in his book, "The Diving Bell and the Butterfly." Completely paralyzed except for the use of one eye, he "blinked out" his memoir one letter at a time.
Video sculpture consists of a looped DVD movie projected onto a bell jar, glass case and picture frame.
FSU Museum of Fine Arts
530 W Call Street
250 Fine Arts Building
Tallahassee, FL 32306-1140
Phone: (850) 644-6836