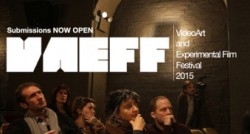 "Swallowed Whole" will screen on Friday, Nov. 13 at 7:00 pm in the 2015 Video Art & Experimental Film Festival (VAEFF) at the TriBeCa Film Center in NYC. The program, "Chaos Meets Structure," will feature a myriad of works capturing the ever-changing relationship between chaos and structure at varying levels of formality.
The VAEFF introduces New York audiences to the most conceptually and aesthetically arresting, daring and provocative video arts and experimental films from around the world. VAEFF embraces a boundary-expanding spectrum of work that also includes fashion films and music videos. The three-day festival features special programs, such as "Beauty, Sex and Shame," which depicts the intersections of beauty, shame, and sexual representation as expressed through art, fashion, and music videos, panels, and live performances.
VAEFF 2015 events are taking place on November 12 – 14 at the Tribeca Film Center and Downtown Community Television Center(DCTV) in New York City.
TriBeCa Film Center
375 Greenwich St, New York, NY 10013
(212) 941-4000