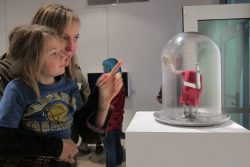 My latest work, a new kinetic sculpture, "Dwell," and several stop motion animations were featured in the show, "Herself: Girlhood in Stop Motion Animation," at the Atkinson Gallery at Santa Barbara City College. Curated by Sarah Cunningham, this show features the work of 5 women animators: Rita Basulto, Laura Krifka, Heidi Kumao, Kirsten Lepore, and Suraya Raja.
The exhibit, which includes a film by each artist as well as stills, production shots, drawings, and sculptural figures, explores the complexities of girlhood and coming of age. In these 5 short stop motion films, the artists portray girls overcoming their fears, coping with loss, solving problems, and succumbing to/resisting societal expectations.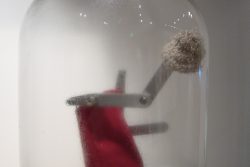 Presented in conjunction with the Santa Barbara International PuppetPalooza (http://puppetpaloozasb.com), the exhibit opened with a public reception on Friday, January 26 from 5pm-7pm preceded by an artist discussion with Laura Krifka and Heidi Kumao at 4pm in Humanities Building Room 111. Generously sponsored by the Santa Barbara City College Foundation, the exhibit will be on view through Friday, March 23, 2018.
The Atkinson Gallery, Santa Barbara City College Art Department's showcase for the visual arts, hosts exhibitions of contemporary art featuring international, national, regional and student artists. All exhibits and events are free and open to the public.
The Atkinson Gallery is located in the newly renovated Humanities Building, Room 202 on the East Campus of Santa Barbara City College, 721 Cliff Drive, Santa Barbara, CA 93109.
Gallery Hours (Spring 2018): Monday-Thursday 11am-4pm, Friday 9am-12noon, and by appointment