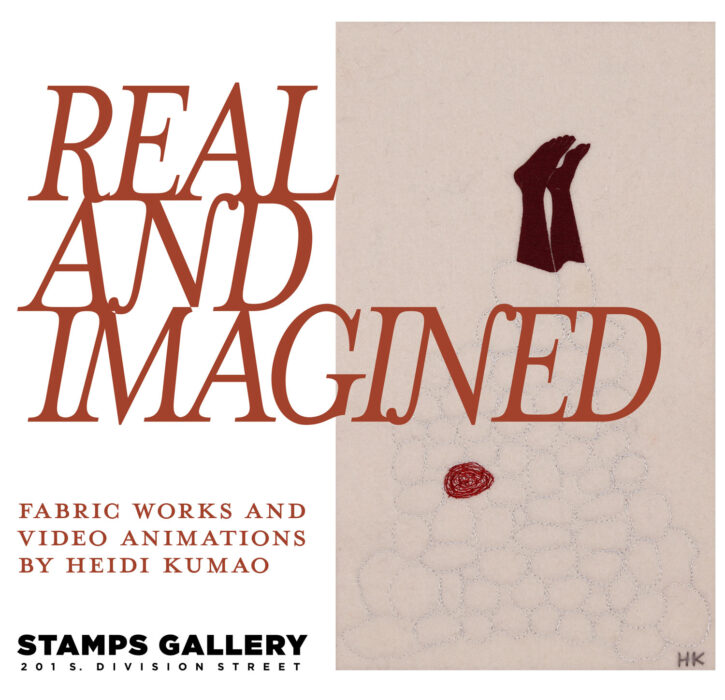 Solo exhibition of new works:
"Real and Imagined: Fabric Works and Animations"
Sept 15-Dec 4, 2020
Stamps Gallery, Ann Arbor
Entry is limited: must show UM ID to enter due to COVID-19
VIRTUAL EXHIBITION ONLINE HERE
201 South Division
Ann Arbor, MI 48104
Hours: Tuesdays & Fridays 2-7pm
Stamps Gallery's exhibition "Real and Imagined: Fabric Works and Video Animations" features my most recent narrative works. In this series, I'm using fabric cutouts and machine and hand stitching on industrial felt to distill the emotional and psychological aspects of relationships into accessible visual narratives. Events are captured midstream, suspended in time like a felt film still.
This work is inspired, in part, by the courage and testimony of women like Christine Blasey Ford and others in the #MeToo movement who publicly report assault or harassment. The title, "Real AND Imagined," is a direct reference to how a woman's testimony is received: Her account is accepted as truthful by many, and simultaneously dismissed as IMAGINARY by the court of public opinion. The event, then, is both real and imagined.
More photos of individual pieces are HERE
Video recording of Zoom Virtual Gallery Tour – coming soon!