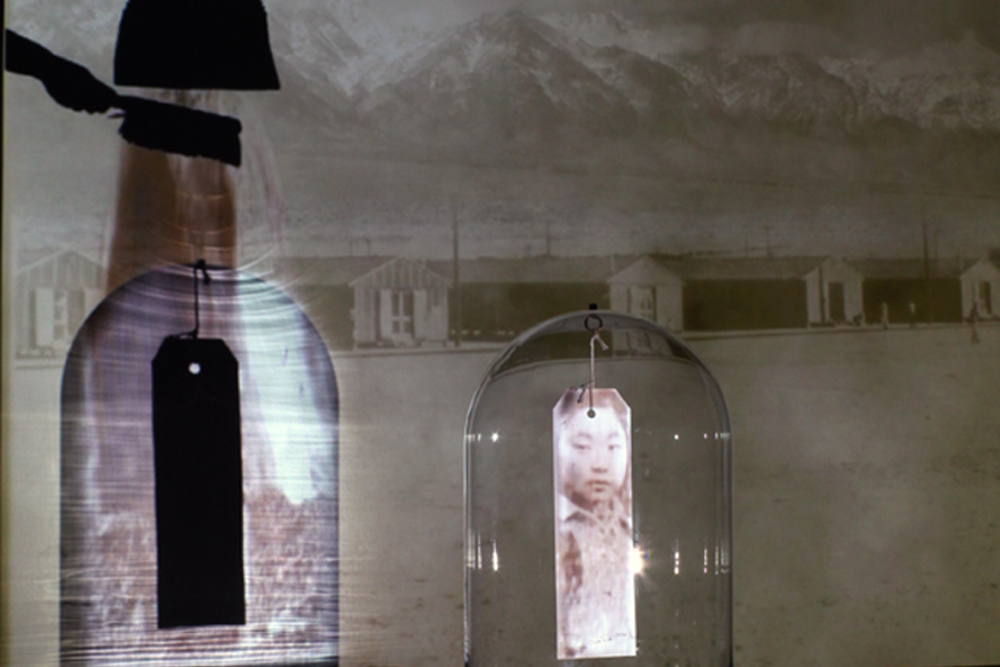 President Roosevelt issued Executive Order No. 9066 on February 19, 1942 which mandated that 110,442 persons of Japanese ancestry be evacuated from the West Coast.
Transplant

"Transplant" explores the lives of Japanese nationals and citizens who were interned in War Relocation Centers in the dusty desert of California during WWII and how they cultivated gardens as a creative outlet to survive their confinement. Despite the horrendous conditions–an inhospitable site, being treated as a second-class citizen by the government, losing most of their possessions– residents of these "camps" constructed beautifully landscaped parks complete with ponds, rock gardens, and bridges. This piece pays homage to their ingenuity and personal drive to physically transform gravel into gardens, altering their built environment as an act of defiance.
Mixed media: bell jar, paper, steel tables, DVD w/audio, DVD player, video projector, approx. overall dimensions: 62 × 36 × 90 inches.
Wing Luke Asian Art Museum, Seattle, WA 2010
SIGGRAPH 2011 Conference Art Gallery, Vancouver, B.C., 2011
El Museo Cultural de Santa Fe, Santa Fe, NM, "Currents2010″
Armory Center for the Arts, Pasadena, CA, 2010
College Art Gallery, College of New Jersey, Trenton, NJ 2010
Visual Studies Workshop, Rochester, NY, 2009