Awards
Best Experimental Short, 38th Big Muddy Film Festival, 2016
Special Jury Mention, Experimental category, Oxford Film Festival, 2016
Royal Reel Award, Experimental Shorts, Canada International Film Festival, 2016
Best Experimental Film, Female Eye Film Festival, Toronto, June 2015
Jury's Choice Award – 1st Prize, 34th Annual Black Maria Film Festival Tour 2015, New Jersey
Special Jury Award for Outstanding Montage, Blow-Up: Chicago Int'l Arthouse Film Festival, 2015
Best Experimental Film, Humboldt International Film Festival, April 2015
Remi Award, 48th World-Fest Houston International Film and Video Festival, April 2015
Best Experimental/Documentary Award, Seoul International Extreme-Short Image & Film Festival, 2014
Bronze Videoholica Award, Videoholica International Video Art Festival, Varna, Bulgaria, 2014
Festivals
Vienna Independent Shorts Festival, Austria, 2016
Alchemy Film and Moving Image Festival, 2016
43rd Athens International Film and Video Festival, Athens, OH, 2016
38th Big Muddy Film Festival, Southern Illinois Univ., Carbondale, IL, 2016
Filmfest Dresden: International Short Film Festival, Germany, 2015
53rd Ann Arbor Film Festival, Michigan, March 2015
Atlanta Film Festival, Georgia, March 2015
Oxford Film Festival, Oxford, Mississippi, Feb 2016
Tricky Women International Animation Filmfestival, Vienna, Austria, March 2015
12th Annual Chicago International REEL Shorts Film Fest, Dec 2015
2015 Video Art & Experimental Film Festival, New York City, Nov. 2015
International Short Film Festival 20min|max, Ingolstadt, Germany, June 2015
13th Festival International Signes de Nuit, Lisboa, Portugal & Sarrbrücken, Germany, June 2015
13th Festival International Signes de Nuit, Paris, Nov 2015
Doctober Documentary Film Festival, Bellingham, WA, 2015
Artists' Television Access, GAZE series, San Francisco, 2015
Athens Animfest 2015, Athens, Greece
FONLAD Festival – Digital Art Festival Coimbra, Portugal (via CologneOFF – Cologne Int'l Videoart Festival)
Mostra de Curtmetratges Dr.Mabuse XIV, Barcelona, Spain, 2015
Rencontres Internationales Sciences & Cinemas, Marseille, France, Nov. 2014
Tehran International Film Festival, Tehran, Iran, Oct. 2014
Simultan Festival 2014, Timisoara, Romania, Oct. 2014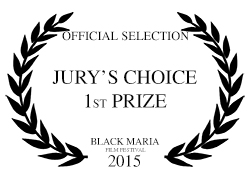 Swallowed Whole

A jarring journey through hospitalization and recovery.
"Swallowed Whole" is a somber, animated, experimental film about surviving extreme isolation and physical limitations as a result of traumatic injury. Edited to emphasize the physical impact of dropping, crashing, and slamming, the film repeats vertical frame-rolls from analog TV to metaphorically replay the impact that literally broke the filmmaker's back.
Single channel HD video, color, stereo, 4:06 min.